What makes hot summer days cool and bearable? Of course, ice treats and snow cones. And having access to a fluffy shaved ice machine makes it easy for you to prepare party drinks, delicious slushies, and snow cones at home. 
Snow cones seem easy to make as they include only flavoring and ice. But, in reality, the ice is a bit tricky. Blenders crush the ice that you can use in your drinks, but it is different for snow cones. The ice we want for snow cones should be fluffy and fine. 
The fluffy shaved ice machine, also known as a snow cone maker, shaves the ice instead of crushing or blending them. You can find high-end fluffy shaved ice machines and affordable ones in the market.
Also Read- Best Ice Shaver For Bingsu
We have done thorough research to find the best fluffy shaved ice machine in the market. This article has included the best ice shaver for homes and commercial use.
Best Fluffy Shaved Ice Machine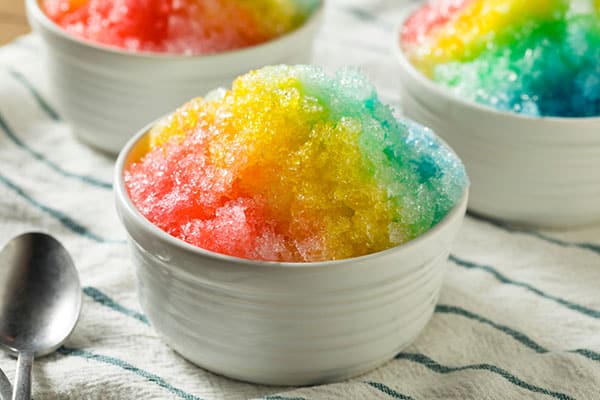 Let's have a look through the top 5 best shaved ice makers…
---
1. Snowie Max Shaved Ice Maker
Pros
The machine creates soft and fluffy shaved ice.
It comes along with 6-different flavor syrups.
There is no need to freeze special-shaped ice, as it allows regular and standard ice.
It comes with a built-in dome shaper. It helps in molding the dome and creates the perfect dome top while simultaneously filling the cup.
The machine comes with a strong motor, making it durable, powerful, and faster.
Cons
The machine is a bit loud.
No cups are present along with the machine.
The Snowie company creates the best commercial ice machines and may cost thousands of dollars. They have incorporated some commercial features into this shaved ice machine for home use. 
Does the machine require to freeze special-shaped ice? This machine allows standard ice cubes and doesn't require freezing ice in a special shape. The design of the machine is ideal for homes and allows you to keep it on counters just beside your coffee machine.
The angle dispensing system is very useful for easily creating the familiar domed top on your snow cone. You can also collect the ice by placing a bowl underneath. 
The ice machine comes with 6-flavor syrups. You also get 8 "Snowie Shovel" spoons that are reusable and dishwasher safe.
2. Hawaiian Shaved Ice Machine
Pros
The shaved ice machine has a compact design that allows you to easily tuck it into a cabinet.
It minimizes mess with a non-slip silicone drip tray.
The machine is comparatively quiet.
The machine comes with 3 bottles of shaved ice syrup, 16-ounces each.
The machine starts by just pressing the top.
To make special ice pucks, the machine comes with two lidless containers.
Cons
To get the proper texture, the machine needs special ice blocks.
The cones are comparatively tall.
If you are looking for a shaved ice machine for small businesses or homes, this festive machine is what you need. This machine comes with three bottles of shaved ice syrup, each of 16-ounces. It includes 25 cups of paper snow cones, 25 plastic spoon straws, and three pourers.
You can start this ice machine by pressing on the top—the texture of the shaved ice changes by pressing easier or harder. 
You get two lidless containers that just fit in the machine to make the ice pucks. You can make two cones out of each ice puck. You can also use regular and standard ice cubes, but the texture won't be the same.
3. Great Northern Commercial Shave Ice Machine
Pros
The machine is equipped with adjustable stainless steel blades.
The machine has a commercial motor having ⅓ HP.
It can crush 6 pounds of ice in a minute.
The manufacturer offers a year's warranty.
The machine offers fluffy shaved ice without any effort.
Cons
There is no safety shield present.
The machine is a bit bulky and on the expensive side.
The Great Northern Popcorn company offers more than just popcorn makers. This shaved ice maker is known for the equipment's quality. The machine comes with adjustable blades made of stainless steel. 
With a ⅓ HP motor, the machine can crush 6 pounds of ice in a minute. But, the machine is a bit bulky and on the expensive side. But, if you have adequate space to store the machine, you will not be disappointed with the consistent and fluffy ice for the snow cones. 
The shaved ice machine should be kept away from the children's hands. The machine has a drill press, whose blades are quite sharp, and there is no shield.
4. ZENY Ice Crushers Machine
Pros
The heavy base of the machine does not allow it to slide around the counter.
It can produce 143 pounds of ice in an hour.
The shaved ice machine offers safety measures.
It's a durable product.
Can produce ice shavings uniformly.
Cons
The small bowl has a chance of overflowing.
It crushes the ice, rather than shaving.
Industrial stainless steel is great for making snow cone machines. This machine is a great addition for making ice for slushies, margaritas, and other things for a crowd. It is efficient and super speedy. The shaved ice machine can make 143 pounds of ice in an hour. 
Is the machine noisy? The base of the ZENY ice crusher is heavy, so you don't need to worry about the unit creating unnecessary noise or sliding around the counter. Some of the other safety measures present in this machine include automatic shut-off with an open hooper and a switch for water-resistant on/off.
This machine is rated for commercial purposes but can be effectively used at homes or small businesses. It also produces ice shavings uniformly.
5. VIVOHOME Electric Ice Shaver
Pros
The machine is made using ABS and aluminum.
The motor runs at 320 RPM and can shave 260lbs of ice in an hour.
The texture of the ice can be adjusted with the help of an adjustable knob.
It comes with a safety protection device that allows the machine to run when the lid is closed properly.
The design of the machine is compact, and you can easily carry it around.
Cons
It uses ice blocks instead of ice cubes.
A silicone plug is used for draining the water collector.
The electric ice crusher by VIVOHOME is made using high-quality ABS. The rotary blades of the ice shaver are constructed using durable aluminum. You can use this shaved ice machine to make snow cones, yogurt freezes, slushies, milkshakes, and other drinks. 
This machine can be used at home and for commercial purposes as well. It comes with an efficient and high-speed motor of 250W. It also has a large ice drawer that shaves ice in some minutes. 
Can we adjust the texture of the ice? With the help of the adjustable blade knob, you can change the texture of the ice. There is a safety protection device on the lid of the ice shaver. The machine only operates when the lid is closed.
---
Best Fluffy Ice Shaver Buyer's Guide
This buying guide for the best fluffy shaved ice machine uses some common terms that you will encounter thousands of times while reading the article. 
Here are some of the factors that you need to consider that will make your decision about buying a fluffy shaved ice machine easier.
Type
The manual snow maker is the smallest, most affordable, and accessible. As long as you have access to ice, you can make snow cones with manual models.
Manual snowmakers are good for making little snow cones, requiring hand power. It is best to buy an electric snow cone maker to make several snow cones. 
Electric snow cones vary in speed, wattage, and capacity. Go through the sharp blades, mechanical lifts, and heavy machinery that comes with these machines. Usually, commercial snowmakers are loud and heavy.
Size
You will come across snow cone makers of different sizes in the market. Before buying one of these machines, determine the purpose of buying it, the space you have to store it, and how frequently you want to use it.
Design
Another thing that you might consider is how the shaved ice machine looks like. You will come across some models that are ready for your parties. They have bright colors, fun designs. Some may also look like a pushcart with a handle, two wheels, and two legs.
Though the machine's performance is important and the design does not have anything to do with performance, this certainly should be considered.
Price
Shaved ice machines are available in different ranges. This is why it is important to find a fluffy shaved ice machine within your budget. The countertop machines and the manual ice machines are usually cheaper. If you are willing to invest a bit more, it is best to find a commercial shave ice machine having larger capacities and higher wattage. 
If you don't want to use this machine regularly and want it only for a day or two, you can also rent them.
Final Verdict
Shaved ice is different from crushed ice and blended ice. Shaved ice is finer and fluffier compared to them. After extensive research, finding the best fluffy shaved ice machines is quite difficult. It is important to know snow cone makers and understand their uses properly. 
We recommend the Little Snowie Max Snow Cone Machine. Ideal for home and does the job extremely well. I hope that this guide on the Best fluffy shaved ice machine provides you with all the information required to buy.
Also, Check–