The scorching heat on summer days reminds the actual value of an ice-cream and cold drinks. But, do you need to run after the nearest restaurant or a bar to enjoy your summer? Why not get an ice shaver machine that can bring most of your favorite summer drinks home?
Decided to buy a good shaved ice machine this summer?
Cool…
But, selecting one from many options is as painful as the scorching heatwaves of summer. That's why I did everything on your behalf. You don't need to read thousands of reviews of ice shavers.
I have gone through hundreds of platforms to check customers' reviews and made a list of the best ice shaver. You can find them and read product reviews below.
Best Ice Shaver (2022) – For Home Use
These are the best ice shaver machines that work efficiently-
1. Hawaiian S900A Shaved Ice Machine
The Hawaiian S900A is the first choice of every snow cone lover. It's the most popular electric ice shaver machine that lets you make various cocktails with shaved ice.
I would say this is the best ice shaver for home use. Your kids will enjoy this summer with their favorite snow cone ice-creams.
This ice machine has two round block ice molds that work great for shaved ice, snow cones, snowballs, slushies, and margaritas.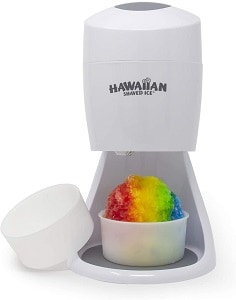 This machine is very lightweight and portable; hence you can keep it anywhere in your kitchen. Also, it can be used outdoors too.
The disassembly is really easy, and it makes cleaning very easy. This machine is ETL Listed and made with BPA-free plastic that ensures the safety of your kids and toddlers.
Pros
It's a best seller product.
Hawaiian provides good service across the country.
It's lightweight and portable.
It's made from BPA-free plastic.
The build quality is great.
The blades are adjustable.
Cons
Not suitable for commercial use.
It takes a little more time to crush if ice cubes are used.
A bit noisy in operation.
2. Nostalgia SCM502 Ice Shaver
The Nostalgia SCM502 is yet another good ice shaver with tough stainless steel cutting blades. This is covered with good-quality acrylic sheets that can hold up to 8 ounces of snow ice, equivalent to 20 snow cones at a time.
I love its countertop design that can be placed anywhere in the kitchen. It's perfect for making shaved ice from ice cubes. Also, It has a side shelf that can hold two snow cones.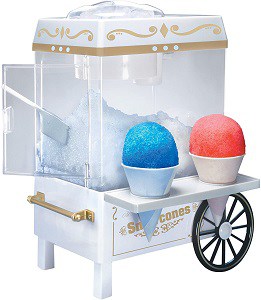 A safety switch is built into the shaving mechanism to keep hands safe. Also, it comes with two reusable plastic cones.
Pros
The design looks great.
It's easy to clean.
The machine is very much portable.
The countertop design is good for use in the kitchen and outdoor.
It can hold 8 ounces of shaved ice.
Cons
The plastic used on top of the machine is not good.
A bit noisy in operation.
It's not suitable for commercial use.
3. Little Snowie Max Shaved Ice Maker
Snowie is a popular brand for manufacturing shaved ice machines. This Little Snowie Max Ice Shaver is designed for home and office use.
This machine makes fluffy shaved ice in just 3 seconds. It has a powerful high-speed motor and a hardened stainless-steel blade. If you're looking for the best ice shaver for home and office, this one would be a perfect choice.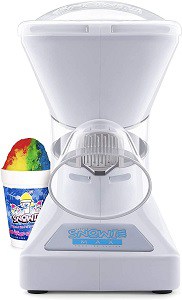 When we talk about safety, this machine only operates when the lid is closed properly. It means it's perfect for child safety. It's one of the best ice shavers for Bingsu (Korean shaved ice).
Pros
Good choice for home and office use.
It has a 1000-watt powerful motor.
It has a hardened stainless-steel blade.
It takes only 3 seconds to make fluffy shaved ice.
You can use any type of ice.
It has 3 years of warranty.
4. Time for Treats Avalanche Ice Shaver
I'm sure your kids go mad after snow ice cones. Do you also love daiquiris and cocktails? This shaved ice machine will fulfill your need.
Time for Treats ice maker is a compact device that you can keep anywhere in your kitchen. It's portable, and you can take it anywhere.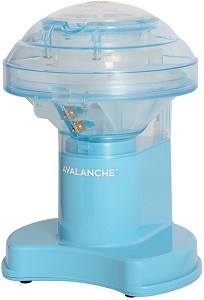 Time for Treats Avalanche Ice Shaver has a powerful motor and tough stainless-steel blades. You can use homemade ice cubes to crush them.
Pros
It's portable and lightweight.
The design is compact.
It comes with 1 year of warranty.
It can be used for outdoors and camping.
Cons
It's not suitable for large families.
The quality of the material is not good.
It's not durable.
5. Nostalgia RSM602 Snow Cone Maker
Yet another product from Nostalgia Ice Maker that's a good choice for snow ice. This snow cone maker has a large capacity. It can store 8 pounds of shaved ice at a time. It means you can make 20 snow cones with that.
If your demand is high, you should consider this Nostalgia Shaved Ice Maker for your kitchen. It has a tough stainless blade that can crush any ice cubes.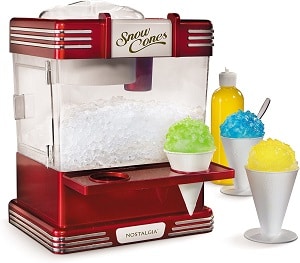 The casing design is transparent, so you can look through and check the level of shaved ice you have.
There is a safety switch also to keep your hands safe. When we talk about the size, this is good for kitchen countertops.
Pros
Large shaved ice storage that holds 8 pounds of ice at a time.
The transparent casing allows you to look through.
You can make 20 snow cones at a time.
It has tough stainless steel blades.
It's a durable product.
Cons
The size of the shaved ice is too fine.
The shaved ice melts quickly inside the container.
6. Cuisinart Snow Cone Maker
The Cuisinart Snow Cone Maker is yet another compact machine for shaved ice. If you have high demands for ice and looking for a small ice shaver for a kitchen countertop, you should go for this.
The Cuisinart Snow Cone Maker looks adorable in your kitchen. It can produce shaved ice for 4-5 cones within a minute.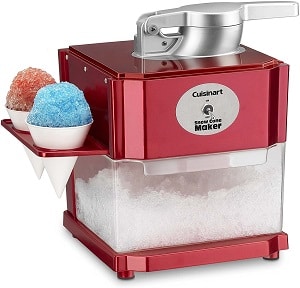 The icebox is made from transparent BPA-free plastic sheets. All you need to do is- just put the ice cubes on the top of the machine, and it'll give you shaved ice for snow cones, frozen lemonades, slushies, and cocktails.
Pros
It looks adorable in the kitchen.
It's made from BPA-free plastic.
The shaved ice quality is good.
It has two foldable snow cone holders.
Cons
It's noisy.
It's not for commercial use.
Ice freezes very quickly.
7. VIVOHOME Electric Ice Shaver
Vivohome Electric Ice Shaver is a heavy-duty shaved ice machine. The entire body is made from stainless steel. If you want to treat your guests or children with snow ice cones or frozen lemonade, this machine is always ready for it.
It rapidly makes 150 pounds of ice per hour. So, if there's high demand, always consider VIVOHOME Electric Shaved Ice Machine.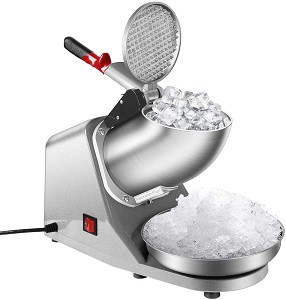 The body is made from food-grade stainless steel, and the vibration is minimized up to a good extent. The 300-watt motor rotates at 2000RPM to provide shaved ice quickly for your various beverages.
Final Words
Get the best ice shaver at your home and surprise your kids with snow cone ice. I suggest you get the best product from the list. Hawaiian S900A is the most popular shaved ice machine that you can buy for snow cones, cocktails, iced tea, or frozen lemonade.
You can buy a Nostalgia SCM502 ice shaver if there's more demand for shaved ice in your home. It produces 8 pounds of ice within a few seconds. All thanks to the powerful motor and high-durability stainless steel blades.
Rest, the choice is yours… Read this ice-maker guide for more information.
Also Read-