No matter what weather it is, we are always in the mood of having some delicious desserts. From shaved ice, snow cones to ice cream, these delicacies are a must for every occasion. Whether you have won a competition or you are going through a breakup, a cup of ice cream always helps.
However, normal ice cream can get kind of boring after a while so why not switch to something more fun! If you love to create your versions of desserts then Bingsu is simply perfect for you. Bingsu offers you so many options for toppings that you can taste different things every day.
In this article, we have come up with the best ice shavers for Bingsu that will allow you to make this dessert instantly. Let's get started and have a look at the most reliable, effective, and long-lasting machines.
What is Bingsu ice cream?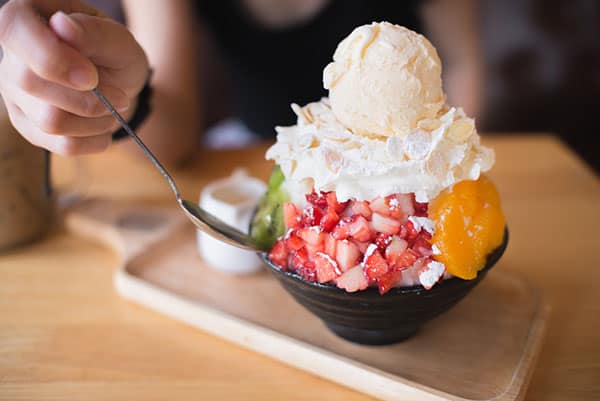 Bingsu is a popular Korean dessert that was discovered by the masses recently. When finely shaved ice is mixed with flavors, milk, chocolates, red beans, and other toppings, Bingsu ice cream is formed. Back in the day, this dessert was only accessible by the rich people as a common man could not afford refrigerant or other equipment.
If you are a cold dessert lover then you have to try out Bingsu. What people love about Bingsu is its creative toppings that are indeed endless. Add your favorite fruits, syrups, and cereals to shaved ice to formulate your dream ice cream.
Best Shaver For Bingsu
These are the best ice shaver for Bingsu ice cream-
---
1. Little Snowie Max Ice Shaver
Pros
Arrives with 6 flavour powder sticks, 2 souvenir cups, 2 mixing bottles and 8 reusable shovel spoons.
Long lasting so will last you years to come.
Efficient and bigger size control panel.
The product has a 1-year guarantee.
Noise level is minimum.
Cons
Not suitable for commercial use.
This appliance made it to the top of the list because it has it all. Little Snowie claims to be the fastest in-home ice shaver machine. Get perfect as well as delicious snow in just 3 seconds and enjoy your treat.
Whether it is your home, office, birthday party, or concession stand, it fits faultlessly everywhere. Apart from being highly efficient, this machine is light in weight, easy to carry, and also super easy to clean. Plus, this ice shaver uses ice cubes that are straight out of your freezer.
2. Smartxchoices Electric Ice Shaver
Pros
Has one-click operation and rapid heat dissipation.
Made up of high hardness material.
Arrives with a user manual so installation is pretty simple.
Perfect for home, office, parties and other events.
It can be used for small commercial purposes.
Cons
Not very durable and the metal can chip off after some time.
This ice shaver machine is great for making crushed ice or frozen drinks. It is equipped with a large stainless steel holding bowl and has a huge shaving capacity of 143 lbs/h. Not only does this product save a lot of space but it is also highly efficient.
Since it has a cover switch that automatically switches on/off the machine, your safety is assured. What we love the most about this product is that it requires no maintenance at all. Moreover, it is easy to clean and easier to use so you get the best of all worlds in one product itself.
3. Hawaiian S900A Shaved Ice Machine
Pros
Inclusion of two block ice moulds and a non-skid tray for the mat.
Syrups are delicious while being true to taste.
Energy efficient as well as highly worthwhile.
Features are amazing and easy to use.
Built material is top-notch.
Cons
Customer service can be improved a bit.
Hawaiian provides you with the entire package and this is all you need for making your favourite treats. Since the design of the shaved ice maker is compact, it fits easily everywhere.
This product delivers perfect snow every time as it has a stainless steel blade along with cylindrical ice blocks. You can adjust the settings of the machine to get the desired texture of snow. Plus, the machine arrives with three ice-shaved flavors, 25 snow cone cups, 25 spoon straws as well as three bottle pourers.
Overall, Hawaiian S900A is a perfect ice shaver for Bingsu and other types of ice creams. You can opt for this machine for home use.
4. VIVOHOME Electric Ice Shaver
Pros
It's a durable product.
Rust proof and food safety guarantee.
3D lattice design for increased efficiency.
Equipped with anti slip rubber pads on the bottom.
Suitable for home, restaurant, bars, office, parties, etc.
Cons
It makes noise while operating.
If you are looking for an ice shaver machine that is quick and the operation is hassle-free as well then this is your best find. This product meets large demands as it operates on 143 lbs/h. Plus, the machine is built with a food-grade corrosion-free stainless steel hopper and blade.
Save a great deal of time and energy because the process of cleaning the machine is super easy. It makes minimum noise while working due to the heavy cast sturdy base. Also, it features a water-resistant on/off switch that adds security to the product.
5. Yescom Electric Dual Blades Ice Shaver
Pros
Equipped with 2 exhaust vents for rapid heat radiation.
2 backup blades are included for easy replacement.
Overheating protection features for additional security.
Can be used in homes, banquets, restaurants, offices, carnivals, etc.
Can produce a large amount of shaved ice in just a few seconds.
Cons
The machine needs thorough cleaning after every use.
From making frozen drinks, shaved ice to chilling salmon, you can do everything with this machine. It features dual blades and can crush at a rate of 440 lbs/h. Since the machine is made up of stainless steel, it will last you for a long time.
Plus, the inclusion of a straight handle design that is insulated and has an anti-slip grip makes the product worthwhile. Alongside, it has a non-slip base that offers stability while the machine is operating and also makes minimum noise.
---
Factors to consider before buying an ice shaver
Here are some things that you should look for in a machine before finalizing a product…
Shaving Speed
Shaving speed is one of the most important features to look for. Especially if you are hosting a party or installing a machine at the office then the shaving speed must be pretty good.
Size
Next, the size of the machine should be compact so you can take it anywhere with you. Also, see that the storage bucket size of the machine is quite big to make enough shaved ice.
Easy To Use
The machine should be easy to operate. What is the meaning of fancy features if you don't know how to use them? Go for simple machines that are easy to install and are not complicated.
Brand Value
Opt for brands that have a good reputation in the industry. Avoid machines made up of plastic and go for machines that are built with sturdy material.
Final Verdict
These were some of the best shaved ice machines that can be used for making Bingsu ice cream. Enjoy your favorite treats at home itself and now you can make them instantly. Create the ice cream with new toppings every day, serve your kids, family and guests and enjoy the praises.