If you're running a restaurant, food plaza, beverage store, or wine bar, you can't depend on a refrigerator. It would be best if you had a high-capacity commercial ice maker, then only it's possible to fulfill the ice demand.
Now, you might ask- which is the best commercial ice maker? And to answer this, we have done hours of research on your behalf. Here we're listing out some of the best commercial ice makers for the high demand for ice.
Do you know how much ice is required for your business? If not, here are a basic overview that you can consider while calculating the capacity of the ice maker. For more details, you can check our icemaker guide.
Restaurant= 1.5 pounds of ice per meal served.

Cafeteria= 1.2 pounds of ice per person.

Hotel Catering= 1.2 pounds of ice per customer.

Beverage Service= 1 pound of ice per cup (depend on cup size).

Salad Bar= 38 pounds of ice per cubic foot.

Cocktail Bar= 3 pounds of ice per seat.

This is just an estimated quantity. The actual demand may vary with various conditions.
Note- This is just a basic calculation to consider the daily ice requirements. But, it's always advisable to get the higher capacity of the ice maker for commercial use.
Best Commercial Ice Makers Of (2022)
These are the top 5 ice makers for commercial use-
VEVOR 570LBS Commercial Ice Maker (Top Pick)
VEVOR 550LBS Commercial Ice Maker (Editors Choice)
1. VEVOR 570LBS Commercial Ice Maker
If there is a high demand for ice at your restaurant, this commercial ice maker by Vevor is an excellent choice. It produces 570 pounds of ice every day that never lets your customer return.
The heavy-duty stainless steel body design gives extreme durability and sturdiness. You buy once and forget about the shortage of ice at your store. It produces excellent quality clear ice that surely entices your customers.
There's a large storage bin for ice that holds 529 pounds of ice every time. Also, the outer shell is well-insulated that doesn't let the ice melt for 5-7 hours. You don't need to transfer the ice to the refrigerator.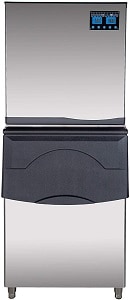 This flake ice machine comes with two water filters. Hence you can connect it anywhere in your restaurant. It removes the impurities from hard water to make the ice odor-free and soft and chewable.
There is a big LED control panel that displays the running status of your machine. It also displays the ambient temperature, compressor current, and motor current. 10 LEDs display the various states of the machine, such as compressor overload, motor overload, lack of water, running status, etc.
If you need the best ice maker for commercial use, this Vevor 570LBS commercial ice machine is the right choice. The brand provides great customer support and after-sale service.
Pros
It has a daily capacity of 570 pounds of ice.
The insulation is excellent, ice doesn't melt for 5-7 hours.
High capacity storage bin of 529 pounds.
The build quality is great.
There is a detailed LED control panel.
The ice quality is excellent (soft and chewable).
The company provides good after-sale service and customer support.
2. VEVOR 550LBS Commercial Ice Machine
There's another product from VEVOR in the rival. Just because of a bit smaller storage and production capacity, it has got 2nd rank. If your demand for ice is a bit low, you can go for the VEVOR 550LBS model.
It's an ETL Certified ice machine that produces 550 pounds of ice in 24 hours. It has a storage bin of 350 pounds that's enough for a beverage store, cafeteria, juice parlor, and restaurants.
This ice machine comes with accessories such as a water supply connector, water draining hose, water supply hose, and an ice scoop. Also, it comes with a water filter kit that purifies the hard water.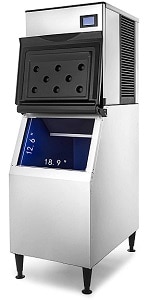 When we talk about build quality, this ice machine is made from high-quality stainless steel. The dimension of this flake ice maker is 34 x 22 x 67 inches. There's a 6-inch stand that keeps the ice maker away from the moisture.
Pros
It produces 550 pounds of flaked ice every day.
There is a water filter carriage that removes the hardness from the water.
It's made of high-quality stainless steel.
It has 350 pounds of the fully-isolated ice bin.
There's a clear LCD panel that displays every detail.
3. Manitowoc CNF-0201A Ice Maker + Water Dispenser
Manitowoc CNF-0201A is a combination of an ice maker and dispenser. It's perfect for self-service stores. If you want to install an ice maker with a water dispenser, this is the right choice.
It can make 315 pounds of ice every day. It's good to install in the office or cafeteria. If there's a high demand for ice in your cafe', then avoid installing it because it has only 12 pounds of storage bin.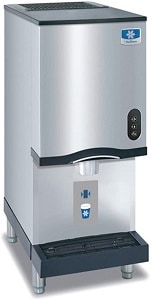 In terms of aesthetics, it looks adorable. You can consider it for home use too. I recommend avoiding this for commercial use, but it's good if you want one for the cafeteria.
Pros
There's a combination of the ice maker and water dispenser.
It's good for small restaurants and a cafeteria.
Perfect choice for self-service.
The high ice production capacity of 315 pounds in 24 hours.
Cons
Not suitable if the demand for ice is high.
It requires a water line and drains.
4. Foster 500LBS Commercial Ice Maker
With 500 pounds production capacity, this Foster Commercial Ice Maker is yet another good choice. It has 350 pounds of storage capacity that never let you experience the shortage of ice.
This ice maker produces a great shape of diced ice cubes for universal use, including beverages, wine buckets, fine dining, and more. Also, it works very silently. So, if you don't want any irritating noise, then this ice machine is perfect for commercial use.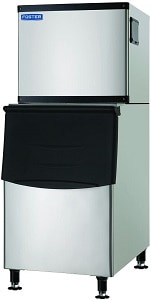 This machine comes with an Air Cooling system. The storage bin keeps ice cubes cold for 24 hours, so you always have ice cubes on hand and ready. Also, the company provides a 1-year warranty on the compressor, motor, and other parts.
Pros
500 pounds of daily ice production capacity.
350 pounds of ice storage bin.
24 hours ice cooling system.
Noise-free operation.
5. Euhomy 100LBS Commercial Ice Maker
This Euhomy is a compact ice machine for commercial use. It's more suitable for the cafeteria, beverage corner, and a small restaurant.
The daily ice production capacity of this machine is 100 pounds. It has a 33 pounds ice storage tank that keeps nugget ice every time. The quality of ice produced in this machine is soft and chewable.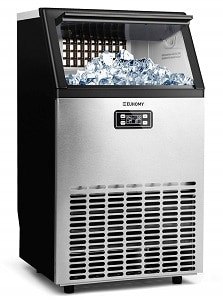 Also, there's an option to choose from different sizes of ice. There is a multifunction LCD control panel that keeps you informed about the operation condition of the machine.
Pros
It produces soft and chewable sonic ice.
Daily ice production capacity is 100 pounds.
It has 33 pounds storage bin.
Easy installation.
Cleaning and maintenance are easy.
Cons
Not suitable if the demand for ice is very high.
Conclusion
Now you might be thinking which one is the best commercial ice machine for you, right? All the best in terms of features and quality. But, one should know his daily consumption of ice. I would suggest high capacity if you don't want to face a shortage of ice.
So, choose the high production and storage capacity ice machine for commercial needs.
Also Read-