Countertop ice makers are the best appliance to make soft and crunchy ice cubes quickly. Also, the setup and operation are very convenient. In this guide, I'll help you set up your countertop ice maker for the first time. Also, I'll elaborate- how to use a countertop ice maker efficiently.
If you recently purchased a countertop ice maker or if you planning to buy one then this guide is helpful for you. I'll explain step by step process to use countertop ice makers without much hassle.
Why One Should Buy A Countertop Ice Maker?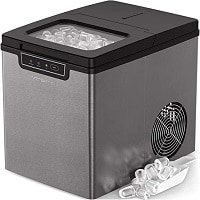 Before explaining the setup process, I would like to tell a couple of advantages of countertop ice makers. There are multiple advantages of a countertop ice maker over a refrigerator ice maker or under-counter ice maker.
A couple of the benefits are listed below-
The quality of ice cubes are better in comparison to refrigerator ice makers. It produces soft and crunchy ice for drinks.
Countertop ice maker works faster. It can give you ice cubes within 6 to 8 minutes while refrigerator takes 25 to 30 minutes.
It consumes less power in comparison to refrigerator. Hence, there is saving of energy.
Countertop ice makers are portable and it can be used for outdoor parties.
It occupy less space in the kitchen and home wine bar.
It comes in different models which makes Clear Ice, Nugget Ice, and Gourmet ice cubes.
These are some benefits of countertop ice makers. It's not enough though. There are plenty of more advantages of portable ice makers.
How To Setup Countertop Ice Maker?
If you're thinking that, set up a countertop ice maker is a tough task then you're wrong. The installation and setup process of countertop ice makers are very easy.
You just need to unbox and place the machine on a flat surface and insert the power cable into a socket. That's it! Your countertop ice maker is ready to use.
How To Use Countertop Ice Maker?
Using a countertop ice maker is like eating cakes. Yes! It's very easy. Follow these steps to understand- how to use a countertop ice maker…
Remove the countertop ice maker from the box.
Place the machine on a flat surface (it should be perfectly flat, otherwise operation would be noisy).
Connect the outlet pipe on the back side of ice maker.
Open the lid and fill the reservoir with fresh water.
Close the lid and plugin the adaptor to a power source.
Turn ON the machine and set it to ice making mode.
Wait for a few minutes and you'll get first batch of ice in the basket.
Dump these ice cubes (at least 5 cycles) and fill the fresh water again.
After a few minutes, you'll get fresh and pure ice cubes.
Add it to your drink and enjoy the summer.
Final Verdict
Countertop ice makers are efficient and better alternatives. I have explained some benefits of countertop ice makers above. Also, the operation is quite simple and cleaning is easy. If you want odorless and fresh ice cubes, you should regularly clean them. I have written a detailed on cleaning of countertop ice makers. You can check that.
Also Check: