If you want the real taste of nugget ice, you should regularly clean the side tank and accessories of your nugget ice makers. But, do you know how to clean Opal ice maker?
If not, read this guide…
I'm going to share some easy methods to keep your FirstBuild Opal and GE Opal nugget ice maker clean. The design of both ice makers is the same hence this applies to both models.
How To Clean Opal Ice Maker?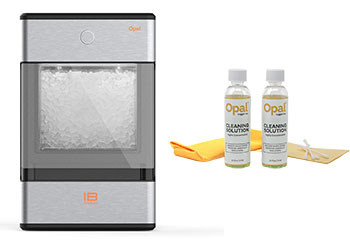 Cleaning your Opal ice maker is an easy task. You should clean your ice maker weekly. Although, there are various ice maker cleaning solutions available on Amazon.
But, I recommend this specially design FirstBuild Opal Nugget Ice Maker cleaning solution. This pack included all cleaning kits. You can use it for a better taste of nugget ice.
But, if you don't want to spend extra on cleaning solutions, follow these steps to clean your Opal nugget ice maker.
Prepare Opal Ice Maker For Cleaning
Before cleaning your ice maker, you should ensure the following things-
Turn OFF your Opal nugget ice maker and unplug the cord from the socket.
Now, leave it as it is for at least 1 hour.
If you are using the filter, remove it and reinstall the reservoir screen.
Check if there is a large buildup of minerals and water impurities.
Try to unclog it with a pen, because it affects ice production.
Now drain the water from the drain tube.
Opal Ice Maker Cleaning Process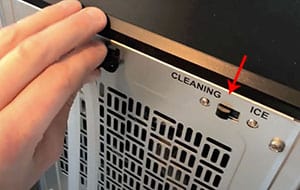 (Follow these steps every week)
Follow these steps to clean your Opal ice maker weekly. It produces high-quality nugget ice cubes-
Take 5 cups of water and 1 tablespoon of household bleach.
Plug-in the ice maker and slide the switch located at back to the "Clean" position.
Now pour the solution (water + household bleach) into the water reservoir.
Touch the display button to start the cleaning process.
Wait for three minutes until water stops circulating and light will pulse automatically.
Now drain the solution by unhooking the top of the drain hoses at the back and lay down the machine.
Remove the drain plug to completely drain the water.
Now, re-insert the drain plug and add 5-6 cups of freshwater to the reservoir.
Rinse the Opal multiple times with fresh water in each cycle. (At least 10 times).
Now replace the drain tubes on the back and slide back to Ice mode.
Start making nugget ice and through the first two or three cycles.
Remove Minerals Deposits
Even though your ice maker looks clean but it's not actually. Minerals and hard water residue left on tubes and other parts of Opal ice maker. It affects the ice quality as well as production rate. You should follow these steps to remove mineral deposits-
(Follow these steps every 6 months)
Slide the switch on the back of the ice maker to "Cleaning" mode.
Plug-in the ice maker into a power source.
Fill the reservoir with vinegar to maximum fill level.
Run the machine up to three cleaning cycles.
Leave the vinegar in the unit for 18 hours and set a vinegar-soaked towel on the ice chute overnight.
Clean the sensors with vinegar and wipe clean with water.
Rinse it with fresh water for at least four cycles.
Clean The Exteriors
If your Opal ice maker doesn't looks clean from outside, then follow these steps-
Make a solution of water and soap.
Unplug the ice maker from the power source.
Take a soft towel and wipe the exterior surface.
Now clean the exterior by soaking a towel in freshwater.
Dry it with a soft cloth.
Note– Do not use wax or any chemicals to clean it. You can use lemon juice to clean it.
Final Verdict
Before starting the cleaning process, you must ensure that Opal ice maker is unplugged from the power source. Also, avoid using any chemicals for cleaning internal and exterior parts.