Nobody loves to start cleaning an ice maker during an ongoing party. That's why you should pick an automatic self-cleaning countertop ice maker.
Though ice makers are portable, cleaning countertop ice makers always seem to be a nerve-wracking process. Fortunately, you get so many portable ice makers that feature a self-cleaning mode.
By picking up the self-cleaning ice maker machine, you can get consistent ice and save a lot of time that you're wasting on cleaning only. Just one click and your machine start cleaning itself. But which self-cleaning ice maker is best at the price points? 
I've listed below some of the best self cleaning ice makers you buy at a better price point. So, let your ice maker clean itself and roll down the ice cubes.
Best Self-Cleaning Ice Makers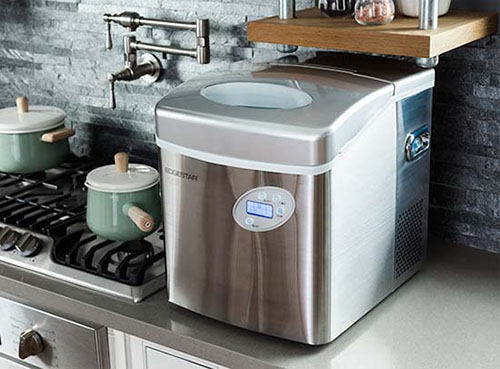 Portable ice-makers are meant for household use. Thus, I've researched some best models of ice makers with smart automatic cleaning features, read the reviews, and decided these are the best smart automatic cleaning ice makers to buy. 
Let's have a close look at these and decide which is best to buy…
FirstBuild Opal Smart Nugget Ice Maker– Top Pick
---
1. FirstBuild Opal Smart Nugget Ice Maker
Pros
It makes excellent quality nugget ice.
It comes with self-cleaning feature.
It has Bluetooth-technology that let you control the entire machine from any smartphone.
It has a powerful yet efficient compressor.
The company provides outstanding post-sale service.
The ice maker comes with a one-year warranty.
Cons
It makes noise because the machine grind the ice cube into flake ice to make sonic ice.
It's expensive.
FirstBuild is probably the best self-cleaning countertop nugget ice maker to have in 2021. This ice maker features a quick and powerful compressor that can make ice instantly within seven minutes. Its elegant design and portable size can fit nicely on your kitchen countertop. 
It features Bluetooth connectivity so that you can easily schedule the ice-making and timing even from your phone. The reservoir can hold up to 2.5 quarts of ice at one time. Its operating temperature is -55-to-99 degrees Fahrenheit. 
Plus, the auto-cleaning mode sets you free from the cleaning hassles. Overall, this ice maker is a must-have product for home-usage. You can read the FirstBuild Opal nugget ice maker review here.
2. Euhomy Self Cleaning Ice Maker
Pros
Water recycling system and hold up to 2.2 liters of water.
Quiet and efficient cooling.
Stainless steel frame for better durability.
Ice scooper is included for ease of ice picking.
The ice maker comes with a one-year warranty.
Cons
Ice basket isn't sufficient to hold ice for longer.
Poor insulation of ice basket.
Looking for a self-cleaning countertop ice maker? Euhomy is the best ice maker machine that can clean itself. It can create around 40 pounds of ice within 24 hours. The best part of this machine is it can adjust the thickness of the ice cubes easily as per your needs. 
It further features a digital display and LCD panel to control the machine easily. The indicator will light up automatically when it requires water to make ice. Moreover, it will also indicate when you need to empty the bucket of ice. 
It has a user-friendly design that fits into space snuggly without consuming space.
3. Igloo Automatic Self-Cleaning Ice Maker
Pros
LED control panel to monitor everything.
It comes with a handle for convenient picking
Ice basket can store up to 1.25 pounds of ice.
Quick freezing and automatic cleaning.
The company provides outstanding post-sale service.
The ice maker comes with a one-year warranty.
Cons
Little but noisy operation.
Ice starts melting if not transferred to a refrigerator.
Igloo is the best portable self-cleaning ice maker that comes with a carry handle. This ice-making machine is designed for your convenience. It features a 2-quart water tank and a powerful compressor that can generate up to 26 lbs of ice in 24 hours.
The carry handle is attached to it so that you pick it up easily and keep it conveniently anywhere. The self-cleaning feature can clean the machine automatically in five cycles.
Above this, you get an ice basket that can hold up to 1.25 pounds of ice at one time. Quick freezing technology allows making nine small ice cubes of cylindrical shape within 7 minutes.
4. Kismile Auto Cleaning Countertop Ice Maker
Pros
The self-cleaning feature that ensures odourless ice cubes.
Durable and long-lasting frame.
Two different size ice cubes.
Easy to fit and install in your kitchen.
Indicator to remind your ice is ready.
Cons
You need to take out a water tray to refill.
Doesn't have an active area to keep ice cool.
A countertop ice maker is always the first preference of individuals who love to have a party at home. This best self-cleaning ice maker has a compact size but can prepare nine ice cubes within 6 minutes only. Being compact, you can fit this anywhere in your kitchen without consuming space. 
It features a multiple function panel that allows you to operate the machine easily. Additionally, it can prepare ice cubes of two different sizes. The top of the machine is transparent, so you can easily check when your ice is ready. 
This will enable you to have fresh ice instantly at one time to satisfy your needs.
5. TRUSTECH Self Cleaning Ice Maker
Pros
Instant ice-making in less than 6 minutes.
Self-cleaning to keep the machine neat.
One-touch control panel.
See-through design to check ice.
Bullet shape ice cubes are soft and chewable.
Cons
Small ice tray, so you need to empty it too often.
Doesn't stop making ice when the bucket is full.
If you have been looking for an ice maker with a self-cleaning feature, look no further and buy the TRUSTECH ice maker. It features one press on/off button that helps to start the cleaning machine instantly. It provides bullet shaped ice that is neither sticky nor melts easily. 
It has a one-touch intelligent operation that tells you whether the tank has enough water or not. In contrast, you can set the thickness of the ice as you need. It can make up to 26.5 pounds of ice within 24 hours. Because of its compact size, it can fit in any kitchen space easily.
---
Best Automatic Ice Maker Buying Guide
Smart automatic cleaning ice makers are expensive. But all of them have different features to an extent. So, when you move ahead to buy the ice maker, I suggest carefully looking over these key specs.
Size
The size of the machine is a very important thing to look after when you are buying a portable ice maker for your kitchen. There are many models available that have a compact design and small size. You can even buy the countertop ice makers as they don't consume much space in your kitchen.
Ice Making Capacity
When you are buying the automatic ice maker with a self-cleaning feature, do not forget to monitor the ice-making capacity of the machine. Ideally, go with the machine that can produce a minimum of 26 lbs of ice within 24 hours. In addition to this, check how long it takes to prepare the first batch of ice.
Storage Capacity
Storage capacity is the most important thing that you need to monitor. Always choose those ice makers with a large capacity tank and hold at least 1.2 or more lbs of ice at one time. A large ice basket can set you away from the hassles of emptying the basket over and over again.
Multi-functional Panel
A multi-functional panel is a must to have featured in almost all ice makers. This will help ease the machine operation and control the ice making, water filling, and ice tray emptying process. You can also prefer digital indicators that indicate you about ice-making and when you need to fill the tank.
Conclusion
Cleaning the ice maker machine seems to be a daunting job. So, always choose those that have automatic cleaning features to ensure that the machine will clean itself. This is why I provided here some of the best automatic ice makers that you can choose to add to your kitchen space and enjoy ice drinks without worrying about the cleaning.