Are you thinking of buying the best undercounter ice maker with a drain pump? Then, you're in the right place to find. 
An undercounter ice maker would be a great choice when you want to have buckets of ice. This ice-making machine not only provides ice instantly but also hides courteously under your kitchen countertop. 
However, when you move to buy an undercounter ice-making machine, you need to consider several features and factors that I've covered below in the buying guide. 
But before that, let's take a glance at these five best under-counter ice maker machines so that you can quickly buy from here without any doubt.
5 Best Undercounter Ice Maker With Drain Pump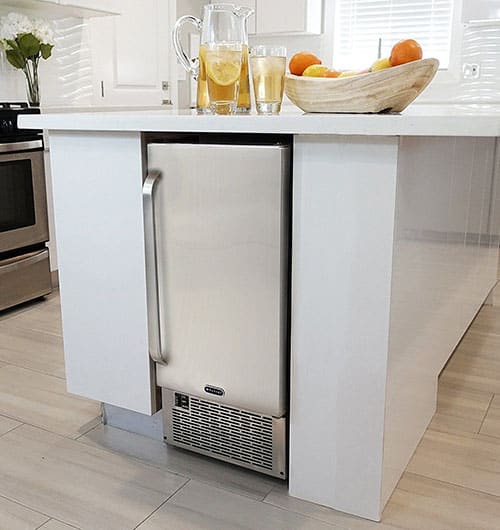 There is no second thought that most undercounter ice maker machines may cost you between $500 to $1000. Luckily, I've tested a few portable ice maker machines on a budget, and a few of them do an amazing job.
The models tested here produce enough ice and don't even consume your space as it fits snuggly under the kitchen top counter. Let's read the reviews so that you can quickly buy a budget-friendly ice maker.
---
1. EdgeStar 50 lb Undercounter Clear Ice Maker with Drain Pump
Pros
Adjustable legs to limit the space consumption.
Simple installation and drain pipe.
Crystal clear restaurant style ice.
Ice scoop included.
Reversible door for quick operation.
Cons
The machine is a bit noisy.
Ice bucket can be bigger.
If you bought an EdgeStar undercounter ice maker, you never need to run out to buy ice. This portable machine can produce 50 lbs of ice within 24 hours. In addition, it has an external drain pump that allows you to drain extra water out from the bin when the ice melts.
The commercial-grade stainless steel door and stylish design look perfect in your kitchen. In addition, you get a removable ice bucket with computerized control. The bin can easily store 25 lbs of ice at one time. 
It features adjustable legs and a freestanding design so that you can adjust the height as per your kitchen space.
2. DUURA DI50P 65 lb Premium Clear Ice Maker with Drain Pump
Pros
Flexible installation and large production.
Energy-efficient and durable construction.
Built-in drain pump and front-breathing design.
Digital control panel.
Stainless steel door.
Cons
It is pricey.
Filter not included.
DUURA D150P is a beautiful blend of technology and protection. This best undercounter ice maker with a drain pump can produce 65lbs of ice within 24 hours. The bright blue LED lighting illuminate the interior of the ice maker. 
It features an automatic cleaning mode and push-button control so that you can enjoy mess-free cleaning of the machine. In contrast, the stainless-steel frame offers durability and strength to the machine. Plus, the automatic flow prevention shuts off the machine when the ice bucket is full. 
Also, the digital control and automatic lock feature help to prevent unauthorized usage. Overall, this ice maker machine is worth buying.
3. Scotsman CU50PA-1A Undercounter Ice Maker With Drain Pump
Pros
Maximum ice producing capacity.
Slow melting and non-sticky ice that retains the flavor of drinks.
Adjustable leg to set the height conveniently.
Self-contained and accessible.
Easy to use.
Cons
The drain line is difficult to clean.
No interior light is provided.
Scotsman CU50PA-1A undercounter ice maker machine is designed for restaurant and commercial applications. It features an air-cooled condenser that quickly freezes water to make ice. This machine can produce up to 65 pounds of ice and store up to 26 pounds of ice into the ice basket. 
The digital control panel of this machine helps to control the machine easily and shows you the condition of the water. 
This gourmet ice maker can produce crystal clear ice that melts slowly. Also, the quick draining system helps to drain out water quickly. The slim and sleek design can fit nicely under the kitchen countertop space.
4. Maxx Ice MIM50P Undercounter Ice Maker with Drain Pump
Pros
Crystal clear ice cube slabs.
Freestanding and energy-efficient design.
Interior blue LED lighting to monitor ice.
Automatic overflow prevention.
Highly affordable.
Cons
Ice bucket is smaller as compared to a machine.
Noisy operation.
Maxx undercounter is a compact under-counter icemaker designed for small restaurants, café, and others. It features a reversible stainless-steel door for easy operation. This under-counter ice maker can give you up to 60lbs of ice per day.
It has a removable ice basket that can easily store 25 lbs of ice. Moreover, it features automatic overflow prevention, which helps maintain ice flow into the bin. 
This ice-making unit also features a built-in drain pump that quickly drains the remaining water. You will also get the stainless-steel scoop and holder for holding ice.
5. Hoshizaki AM50BAEAD Undercounter Ice Maker
Pros
No mess up cleaning.
55 lbs of ice can be produced per day.
Highly energy-efficient and long-lasting.
Built-in storage capacity.
Compact design to fit in all spaces.
Cons
Storage unit can be better.
No automatic flow prevention provided.
If you want a budget buy and the best undercounter ice maker with the drain pump, Hoshizaki AM50BAEAD is the right choice. This ice maker can produce up to 55 lbs of ice per day and has a built-in storage capacity to hold up to 22lbs of ice at once. 
The powerful air condenser helps to freeze the water instantly. Plus, the water circuit can be quickly disassembled for easy cleaning. In addition, Hoshizaki is easy to assemble and has a portable size that can fit easily under the kitchen counter. 
This ice maker is highly energy-efficient and consumes only 115V of energy only. So, this can help to save your extra bucks.
Undercounter Ice Machine Buying Guide
Follow these tips if you are still hunting for the best undercounter ice maker with a drain pump. 
Ice Making Capacity
If you have a restaurant or a small café, you need to buy an ice maker with a drainpipe to generate at least 60-70 lbs of ice per day. This will help to satisfy the daily need for the ice. However, an ice maker that can generate 50lbs of ice would also be a great option to buy. 
Storage Bin
This is the most crucial factor you need to look at when you buy any ice maker. Ideally, go with those ice makers that provide at least 25-50 lbs ice storage capacity. This will be helpful to store a massive amount of ice at one time, and you don't need to empty the container much often.
Drainage Pipe
The drainage pipe also helps drain excess water from the machine and ice basket. So, don't forget to check this feature when selecting an ice maker for you. 
Air Cooling System
An air cooling system is a must-have feature when buying any ice maker. Ensure that the ice maker you buy has a powerful cooling system and hot air vents that help blow out cool air into the ice maker and drain out hot air. This will further help keep the ice for a longer time and prevent it from melting.
Conclusion
In a nutshell, these are some of the best undercounter ice makers with drain pumps which you can buy without having any doubt in mind. However, if you want something exceptional and extensive features undercounter ice maker, follow the buying tips I've discussed in the guide. But if you are satisfied enough with the reviewed product, click on the link and buy quickly.