If you have a large family or you frequently organize parties then you can't run to a store with ice bags. Although you have a premium refrigerator, you need a good quality under-counter ice maker. Because the ice produced in a refrigerator doesn't taste that great.
Also, the refrigerators take 2-3 hours (if using ice trays) or 45-50 minutes (if using a built-in ice maker) to make ice cubes.
When we talk about the best under-counter ice machines, then Scotsman CU50PA-1A ice maker is a top pick. It's the first choice for people who need an ice machine for home or business purposes.
If you're thinking to buy an ice machine, you should read this Scotsman CU50PA-1A ice maker review. I have shared my experience with this under-counter ice machine.
Overview of Scotsman CU50PA-1A Ice Maker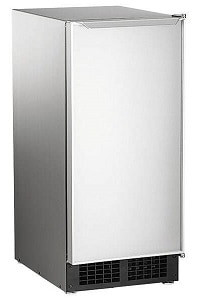 There are hundreds of brands that manufacture ice machines but people only trust popular brands. Scotsman is a leading ice machine manufacturer that was founded in the 1950s. It's a globally recognized brand that has authorized agents in 100+ countries.
Scotsman delivers ice machines to hotels, bars, restaurants, laboratories, hospitals, supermarkets, etc. They are known for efficient operation and water savings.
Scotsman CU50PA-1A Undercounter Ice Maker Review
I bought a Scotsman CU50PA-1A ice maker for residential purposes. If you ask my opinion about this product then I would simply say- Awesome Choice!
It's one of the fastest ice makers that make 24 cubes per cycle. Each cycle takes 8 to 12 minutes. If your daily ice requirement is 65 lbs to 70 lbs, then it's simply a great choice. It's one of the best undercounter ice makers with a drain pump.
The machine operates silently but makes a little sound when ice drops in the ice bin (that's minimal). It has 26 lbs ice bin that holds enough gourmet ice to keep your party going on.
Build Quality
The whole ice maker builds with high-grade stainless steel. Although it's heavy (approx 112 lbs) but the build quality is adorable. The company has given an excellent surface finish. I'm using it for 2 years and haven't got any scratches till now.
Dimension
Due to the stainless steel body, the machine is heavy. But, it's quite compact in size. It measures 34.375 x 22x 14.875 inches in dimensions. I've installed it in my kitchen cabinet and it offers a good reach to ice cubes.
Ice Production
The machine produces 65 lbs of gourmet ice in 24 hours. Each cycle delivers 24 ice cubes and it takes 8-12 minutes to complete one cycle. Also, it has 26 lbs ice storage bin that holds enough ice for everyone.
Ice Quality
This under-counter ice maker produces gourmet ice cubes. I personally love this ice type in cocktail and whiskey. In fact, my friends are amazed when they tasted it the first time. You'll forget your refrigerator ice once you taste it.
Post-sale Service
In the past 2 years, I haven't faced any issue with this ice maker. Scotsman is a world-famous brand that supplies its appliances to more than 100 countries. Once I contacted Scotsman customer care for cleaning my ice maker and they sent a technician the next day. So, I personally felt, they have a responsive customer support team.
Pros
Silent operation.
Outstanding build quality.
Amazing ice quality.
Fast ice production rate.
Great post-sale service.
Trustworthy brand.
Cons
You need buy water filteration system seperately.
Should You Buy Scotsman CU50PA-1A Ice Maker?
Undoubtedly YES! I had a great experience with this ice maker in the last two years. It's a fast ice-making machine which is suitable for both; residential as well as commercial use. If your daily ice requirement is 60-70 lbs then you should definitely buy Scotsman CU50PA-1A under counter ice maker.