Are you tired of waiting to get some ice chunks from your refrigerator? Then this Frigidaire EFIC235 nugget ice maker is something that you need to buy. The model is quite affordable and doesn't put a burden on your pocket.
Frigidaire EFIC235 is no less than any high-end nugget ice maker as it has an excellent ice-making capacity and a sturdier design.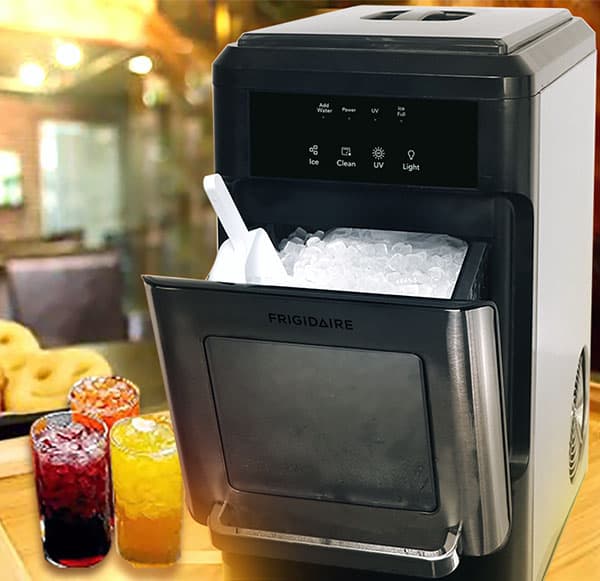 Wish to know more about what it can do for you? Check this post. In this article, I'll provide you with detailed reviews, including key specs and features of this product, to decide whether to buy it and whether it is worth it for you.
Frigidaire EFIC235 Nugget Ice Maker Review
FRIGIDAIRE EFIC235 is a potable size countertop nugget ice maker that can satisfy your needs properly. Though it is compact, it can still produce around 44lbs of nugget ice within 24 hours. Due to its countertop size, it doesn't consume much space in the kitchen.
This portable machine boasted many extensive features that further enhanced the value of the product. Besides that, it features a powerful motor that can produce ice nuggets within a few minutes. Meanwhile, at the same time, it is affordable too.
This machine is quite handy but versatile enough to handle the ice-making task and drinks blending simultaneously. If you want a portable and feature-loaded nugget ice maker machine to use at home, this is the best model to buy.
Technical Specifications
For optimal performance, this FRIGIDAIRE EFIC235 nugget ice maker comprises comprehensive features and specifications. It comes with an automatic water reservoir system that automatically returns the water to the tank when the ice melts.
Other than this, it has the following tech specifications such as: 
Low power consumption motor.
Freestanding and countertop design to keep it secure.
44 lbs of nugget ice within 24 hours.
3lbs ice basket capacity.
0.97-gallon water reservoir capacity.
Multiple style nugget ice/pebble/chewable/sonic form.
The quick operating system allows you to operate the machine within no time. 
Innovative design that fits rightly into any kitchen space
9.8 x 16.1 x 19 inches approximately dimensions.
Interior light and UV light allow killing bacteria.
Features
One of the favorable things about the FRIGIDAIRE EFIC235 is that it has so many features that can ease down your work and allow you to produce ice nuggets like a breeze. Its ice button helps to start and stop the ice production quickly.
Other features are as follows: 
The Control panel has extensive buttons like UV light, clean button, light button, ice button, and add water button that helps monitor everything easily.
UV-light sterilization feature helps kill bacteria and viruses and keep your ice safe.
Excellent ice holding bucket that can hold at least 3lb of nugget ice at one time.
Water reservoir system and a drain plug that immediately drains the water and returns to the tank. 
Durable handle for easy operation.
Build Quality
FRIGIDAIRE EFIC235 is one such budget-friendly nugget ice maker that is made with quality material. Its strong and durable frame is made with stainless steel, which can last longer to consistently provide you with nugget ice. The water outlet pipes are made with durable transparent plastic that offers you long-term reliability.
In contrast, it features a heavy-duty water reservoir that can store the water for a longer time. This reservoir is made with rust-free material, so you can say it remains rust-proof for a longer time. 
Its ice basket features a transparent lid that allows you to monitor the nugget ice. Moreover, it is free from wear and tear damage issues.
Performance
If you think about the performance of this nugget ice maker, then it's superbly impressive. It features a powerful motor that runs on low voltage but still can provide you seamless power to make ice consistently within a few minutes.
This machine can provide you 44 lbs of nuggets of ice within 24 hours and approximately 1.8 lbs of ice every hour. Additionally, it features a digital control panel that allows you to handle everything smoothly. 
Its water reservoir system can hold up to 1.3 Litre of water at one time which is more than sufficient. The performance of the machine is no less than any expensive nugget ice maker machines.
After-sale Service
A lot of nugget ice makers don't offer post-sale services, but this is exceptional. FRIGIDAIRE EFIC235 comes with post-sales services, which means replacing and repairing the damaged product free of cost.
If your product stops working somehow and any part of the machine gets damaged, you can sign up to complain about the given support system and get technical help at your doorstep. However, make sure that the product must be within the warranty period.
Customer Support
If you've faced any issues during the operation and shipping time, you can contact the customer support system anytime and get immediate help from the team. Within 3 to 5 working days, your product will be repaired. 
However, if the product is not in the condition of repair and has a warranty period, you can also claim a refund. Funds will be initiated within a few days; usually, they will return the funds in 3 to 5 business days.
Warranty
FRIGIDAIRE EFIC235 nugget ice maker comes with a one year warranty period. If your product somehow gets damaged during the warranty period, you can claim for the replacement, refund, and repair free of cost.
Overall Experience
Overall, the FRIGIDAIRE EFIC235 is one of the best budget-friendly and high-end ice makers that anyone can buy easily. I like its powerful motor that helps to make the ice quickly within no time. Moreover, the countertop design looks so nice in the kitchen.
Besides that, the machine is easy to use as it has a digital control panel that lets you control the machine easily. 
The nugget ice maker is excellent in this price range from power motor to maximum ice holding capacity and quick ice making a feature. I want to recommend those individuals who like to throw a party at home and serve chilled drinks.
Final Verdict
Overall, the FRIGIDAIRE EFIC235-AMZ nugget ice makers are great to enjoy restaurant-style drinks and get quick nugget ice at home. The extensive features such as portable designs, a digital control panel, and high ice-making capacity, everything is value for money. 
So, I hope this post answers all the questions related to this nugget ice maker. Still, waiting? If you're here, then just click on the link and buy the product.