Suppose we start with the definition, then, according to Wikipedia. In that case, A margarita is a Mexican cocktail consisting of tequila, orange liqueur, and lime juice often served with salt on the rim of the glass.
But, making the real margarita cocktail is not possible without a margarita maker. Getting the best margarita machine would be a nice addition to your home bar. You'll understand the real value in the scorching heat of summer.
In this guide, we're again back with the top 5 margarita machines that make this summer joyful with family and friends.
Best Margarita Machine Of 2022
Check the top-rated margarita machine below-
1. Margaritaville Key West Frozen Concoction Maker
Margaritaville is the leading brand among margarita machine manufacturers. This concoction maker produces six different tasty soft frozen drinks.
It comes with a powerful 700 watts blending and ice shaving motor. You can enjoy margarita, daiquiri, colada, mudslide, mojito, and smoothie at home.
This margarita machine has three 24-ounce of jars. It means you can make 72-ounce of any frozen drinks every cycle.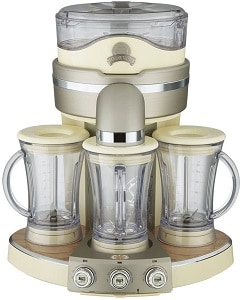 This margarita maker is the #1 choice for frozen drinks lovers. It's a durable product that has entertained you for many years.
Get this machine at home and enjoy your summer with various blended frozen drinks with your family. The large-capacity ice reservoir holds enough ice to make 144 ounces of frozen drinks.
Pros
It comes with three large 24-ounce jars.
It can produce six types of frozen drinks.
It has a powerful 700 watts motor.
It has a large ice reservoir that produces 144-ounce drinks.
The product is extremely durable.
Cons
It's noisy while operating.
2. Margaritaville Bali Frozen Concoction Maker
The Bali Frozen Concoction Maker by Margaritaville is yet another good option if you need a durable margarita maker for home use. It comes with a 60 oz jar capacity that is enough to enjoy a tasty margarita drink.
This machine has four pre-programmed drink settings. It means you can blend Margaritas, Daiquiris, Coladas, and Smoothies at a single tap.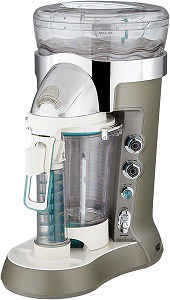 This concoction maker machine gives enormous control over the operation. You can shave or blend manually for customized consistency and thickness. Also, there are pre-programmed settings for half and full chamber blending.
Pros
It's a durable margarita machine.
It comes with a 60 oz jar capacity.
It has four pre-programmed settings for various frozen drinks.
It gives better control over the thickness of drinks.
Cons
It comes with only 1 jar.
3. Nostalgia Margarita & Slush Machine
This Nostalgia Margarita & Slush Machine is good for camping. If you don't want to miss your favorite margarita drink on a trip, this compact machine will blend it for you.
Because of its compact design, people prefer it more on a trip. It's made from tough stainless steel that shaves and blends ice effectively to make a thick frozen drink.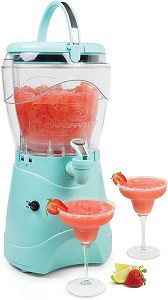 This margarita machine is provided with great insulation that keeps your drink cold for longer. The wire/cable of this machine can be wrapped and fitted underneath the base.
This product by Nostalgia is the best margarita machine for camping and traveling.
Pros
It's a lightweight frozen drink maker.
The compact design makes it convenient to bring on camping and trekking.
It keeps the drink cold for a longer duration.
It's a durable margarita machine.
Cons
It's not suitable for commercial use.
4. Margarita Girl Single-Bowl Margarita Machine
This is yet another popular margarita machine that produces 25 cups every cycle. If you need the best margarita machine for a home party, then this would be the right choice.
It's packed with a 1/5 HP air-cooled compressor that efficiently blends the frozen drink. The company provides good after-sale service across all states of the USA.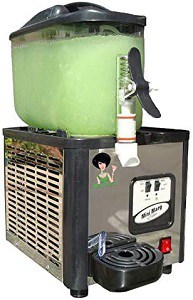 These margarita machine parts are covered under warranty for 2-years. So, you don't need to worry about it. It also provides consistency control and freeze-up protection.
Pros
It makes 25 cups of margarita every cycle.
It has a powerful air-cool compressor.
All the parts come with 2-years of warranty.
The company provides good after-sale service.
5. Bartesian Premium Margarita Machine
If you love enjoying cocktails with your wife or guests this is the right choice. Blending cocktails is very easy with this machine.
It's one of the best margarita makers preferred by thousands of people. The Bartesian Premium Margarita Machine has a feature of self-cleaning after every cycle.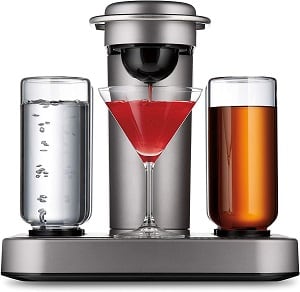 If you want to make great cocktails, margaritas, tequila, or any frozen drink effortlessly, this one would be a perfect choice.
Pros
Auto self-cleaning is a great feature.
It looks very premium.
Operating this machine is extremely easy.
It compact and portable.
Conclusion
You don't need to visit a bar or club to taste cocktails and margaritas. We have listed the top 5 best margarita machines that blend tasty frozen drinks for you. You can choose any machines from the above because they all provide great after-sales service.
Also Read-