Countertop ice makers are high in demand because it consumes less electricity and makes ice faster. GE Profile Opal ice maker is the primary choice for people who love nugget ice. In fact, Opal is the most affordable nugget ice machine.
If you also have purchased the Opal nugget ice maker, you should know the basics of ice maker troubleshooting. Though GE Appliances provides fast after-sale service, you can't wait for a professional every time. Sometimes there is some minor issue due to which your ice maker doesn't work properly.
In this guide, I'm going to describe all common troubleshooting steps for Opal nugget ice maker. If you want to reset Opal ice maker, then read this guide completely.
But, before starting the Opal troubleshooting guide, let's have a look at the working process of the Opal nugget ice maker.
How Does GE Opal Nugget Ice Maker Work?
The working process of countertop ice makers is pretty simple but Opal has a different mechanism. Because it's a nugget ice maker hence it has some additional parts. It doesn't simply freeze the water, but it makes shaved ice then compresses it through a small hole to give the shape of a nugget.
GE Profile Opal is a great piece of invention. I'm surprised that how they assemble everything in a countertop design. It has Bluetooth technology that allows you to control everything wirelessly. Despite lots of technology and features, operating the machine is very easy.
It comes with a handy and simple UI app that allows you to control the device with your smartphone. You can turn on, turn off, schedule, activate cleaning mode, etc. with your smartphone. It also notifies you when the ice bin is full and the water reservoir is empty.
How To Reset Opal Ice Maker?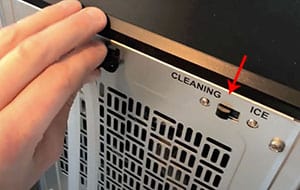 GE Opal nugget ice maker is a Bluetooth-enabled device. It allows you to control the device with a smartphone (iPhone and Android).
If the Opal ice maker not making ice, or functioning properly; you can reset it. If it's making foggy ice, or any bad odor then cleans it as well.
Follow these steps to reset the Opal ice maker manually:
Unplug your Opal ice maker from the power socket.
Drain the water reservoir completely. You'll find a drain tube on the back of machine.
Remove the ice bin and empty the ice.
Now wipe all internal parts with a soft cloth.
Add Opal Cleaning Solution inside the tank.
Put the ice bin back to position.
Now slide the button to cleaning mode (on the back side of ice maker).
Plug-in the ice maker to the power socket.
Turn ON the machine.
Now, press and hold the round button until it turns to orange.
Run the ice maker for a few cycle.
Now drain all the cleaning solution water.
Leave the ice maker for 8 hours.
Now change the switch to ice mode.
Turn on the machine.
Run for a few more cycle and dump the ice.
That's it your Opal ice maker is reset and it'll start making ice properly.
If these steps don't work, you can follow some troubleshooting steps. If nothing works, call customer care support and book a technician visit to your doorstep.