GE Profile Opal 2.0 Nugget ice maker is an upgrade over GE Opal nugget ice maker. If you're planning for a countertop nugget ice maker and you have a budget of $1000 then you can consider this second-generation Opal nugget ice maker.
In this article, we'll cover all the aspects and have an in-depth discussion of its features and build quality. So, if you're planning to order, then read this GE Profile Opal 2.0 nugget ice maker review to know if it's the right choice or not.
GE Profile Opal 2.0 Nugget Ice Maker Review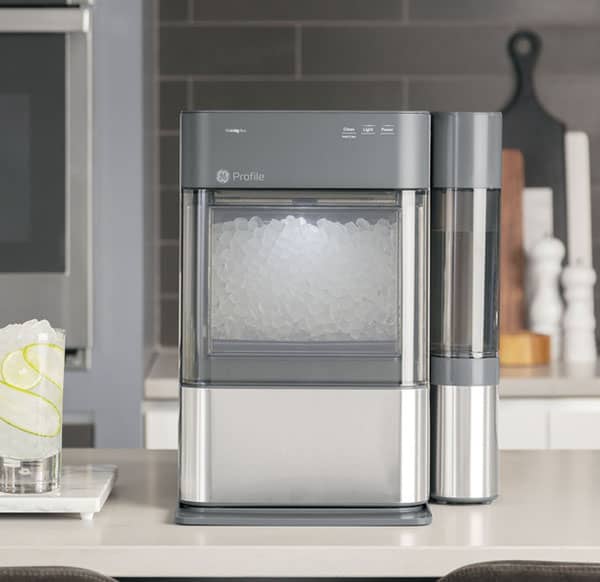 After the grand success of the first-generation opal nugget ice maker by GE appliances, they came up with Opal 2.0 countertop ice maker. The first opal nugget ice maker was launched in 2017 and millions of people loved it.
But, there were some drawbacks in the first generation opal such as noisy operation, glitchy app operation, and expensive pricing.
This ge profile opal 2.0 24-lb. portable nugget ice maker with wifi is an upgrade over its predecessor. It comes with a stylish design, silent operation, and an extra detachable water reservoir.
The smart features are also improved in this upgrade and now it comes with Wi-Fi connectivity features that give better control with a smartphone.
Ice Quality
Nugget ice is everyone's favorite. Earlier, it can only be tasted in a bar and restaurants. But, now you can make nugget ice at home with the help of portable nugget ice makers.
In terms of ice quality, the Opal 2.0 nugget ice maker is unbeatable. It produces outstanding quality nugget ice in just 18-20 minutes. If we compare the ice quality of first and second-generation Opal ice makers, then Opal 2.0 is definitely a winner.
The ice maker produces crisp and clean nugget ice because of the water filter and sanitizing UV light built into the unit. You'll surely love the crunchy and chewable nugget ice.
Design
The opal 2.0 is quite similar to the first-generation opal ice maker. However, there are some changes made in this upgrade. The outer build is made from stainless steel but the interior is changed to grey in color.
The first-generation opal nugget ice maker uses a round button on the front that is used to indicate various states of operation while this button is replaced with a text-based indicator. Due to this change, now it's easy to read and understand the status of the machine.
Smart Features
Now you can connect Opal 2.0 nugget ice maker through a Wi-Fi network. It supports a 2.4Ghz Wi-Fi network that gives better control to your smartphone. When we talk about its predecessor only uses Bluetooth control.
With the help of the SmartHQ app, you can monitor device status and schedule fresh ice. Plus, receive automatic software updates that include the latest ice maker features and access voice control capabilities through Alexa and Google.
Pros
It makes excellent quality crunchy nugget ice.
The build quality is excellent.
It creates less noise while operating.
It provides a Wi-Fi connectivity feature.
You can schedule ice production with your smartphone.
You can control this ice maker with Amazon Alexa and Google Home devices.
Cons
It's expensive.
It takes 18-20 minutes for the first batch of ice.
Should You Buy Opal 2.0 Nugget Ice Maker?
Yes! (without a second thought)
If you want a classy and stylish countertop nugget ice maker. If don't have any budget restriction then this ice maker is the best choice.
The ice quality is exceptional. It makes crunchy nugget ice and gives an amazing taste to your drink.
Final Verdict
GE Profile Opal 2.0 Nugget ice maker is a worthy upgrade. It comes with lots of new features and operates pretty silently. The only obstacle is its price. If your budget allows this, then you should definitely buy this smart nugget ice maker that works with Alexa and Google Home.