Has anyone ever said no to ice cream? We highly doubt that. Scooping ice cream is an easy task only when you have the right ice cream scoop. Many of you may not be aware of how overwhelming the choices are.
How do you pick up the best product for your kitchen then? Well, we are here to help you in choosing the best ice cream scoop. Keep reading to find what our top picks are.
You may like these-
Best Ice Cream Scoop
1. Ice Cream Scoop by Midnight Scoop
What happens when an aerospace engineer designs an ice cream scoop? The most effective product is created. 
Midnight Scoop's ice cream scoop is the first ergonomic product to be designed. Also, a good ice cream scoop ensures that the strain is on your arms and not on your wrist.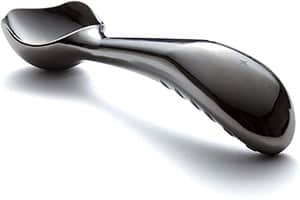 Gone are the days when you had to use heated scoops to melt the ice cream and take it out effortlessly. Even if the ice cream is rock hard, it will still easily scoop it out without putting any pressure on your wrist.
Pros
Sturdy design so the product will last you a lifetime.
The curved handle allows you to push into the ice cream with the base of your hand.
Front has a pointed spade so you get perfect rolls of ice cream.
It is made up of high-quality stainless steel and is also dishwasher safe.
Product arrives with a lifetime guarantee.
Cons
This ice cream scoop is quite heavy.
2. OXO Ice cream Scoop
OXO designs products for a wide range of users. This ice cream scoop is ergonomically designed so the young, old, males, females, left-handed, and right-handed can use it with ease. Have you ever struggled to scoop out the hard ice cream?
If yes then say no more because this product has pointed tips to solve this problem. Unlike other ice cream scoops, this one reaches into the corners of your ice cream tub. 

So, you do not have to reach out for another product when the tub is half empty or almost finished. Let's have a quick glimpse of its features.
Pros
Comfortable to use and offers a non-slip grip.
Made of stainless steel so the color never chips off.
Easy to clean and is dishwasher safe.
The design is sturdy and is built to last.
Cons
It is heavy so people with arthritis may find it difficult to use this product.
3. Zeroll Ice Cream Scoop
Zeroll has been the king of manufacturing ice cream scoops since 1935. Opt for this product if you wish to have the perfect round ice cream rolls without any hassles. What's best about this product is its unique design! 
Since the handle contains a heat-conductive liquid, it uses the warmth of your hands to scoop out ice cream effortlessly.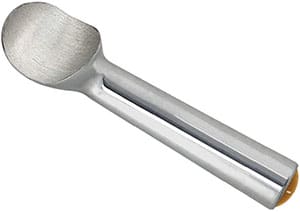 Plus, it does not matter if you are a lefty or a righty because Zeroll's e cream scoop is built for everyone. With the all-new and better aluminum alloy, you can be stress-free about the product being corroded.
Pros
Create bigger looking portions by eliminating compression.
Very easy to use and can be cleaned without any annoyances.
Offers a one-piece design and there are no springs that need to be replaced.
Produces fine round scoops of ice creams.
Cons
It cannot be placed in a dishwasher. Clean it with your hands only.
4. Spring Chef Ice Cream Scoop
Spring Chef claims that this product will be the last ice cream scoop you will ever need in your life. Known for its stability, this ice cream scoop has a sturdy design that will literally last forever.
Be it ice cream, gelato, or custard, you can use this product for everything. If making spherical and proportionate scoops is your problem then Spring Chef's ice cream scoop will eliminate it all.
Whether it is a softy ice cream or a rock-hard one, you can easily scoop it without any additional pressure on your wrists.
Pros
The company offers a lifetime warranty on the ice cream scoop.
It is dishwasher safe so clean it quickly without any effort.
Innovative design as it is a combination of a scoop and a spade.
The handle has a notch that lifts the lid of the container.
Cons
Not aesthetic in appearance.
5. Jenaluca Cookie Scoop Set
Our next pick is for professionals and meticulous bakers. Not only is it great for your home or bakery but it is also an incredible gift for your fellow bakers.
Jenaluca's set contains three scoops that are different in size. Along with an ice cream scoop, this can also be used for making cookies. Use the small, medium, or large scoop, whichever you need for your purpose.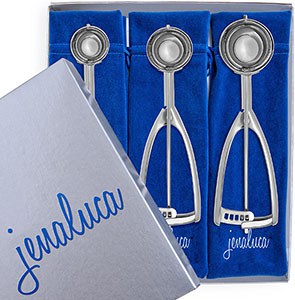 For those who bake often, this product is a must in your kitchen. Since it is made up of stainless steel, you can be assured of its durability as well as strength.
Pros
The products and the packing both are eco-friendly.
Ergonomic design and has a cog and ratchet system.
Arrives with a lifetime guarantee.
It is dishwasher safe and looks just as new after being cleaned.
Cons
Cookie dough sometimes gets stuck in the scoop.
Best Ice Cream Scoops Buyer's Guide
Consider the following factors before ordering an ice cream scoop-
First of all, see to it that the mechanism of the product is effortless and does not make your wrists do the hard work.
Look at the size of the scoop that you want. If you just need it for your ice cream then medium-sized scoops will work just fine. Opt for multiple sizes of ice cream scoops if you love to bake or are a professional.
Also, see if the ice cream scoop curls in the rock-hard ice cream. If not then keep exploring your options. Consider the front design as well to be assured that the product will work in all possible scenarios.
Conclusion
These were our top picks for the best ice cream scoops. Compare the features of different products before finalizing one. Enjoy round scoops of ice cream, gelato, and much more.