What's sweeter than eating ice creams? Making your own ice creams at home! Dealing with summers and the scorching heat is impossible without ice creams.
Make soft ice creams and softer memories of you and your family enjoying your favorite desserts. Give your kitchen the perfect gadget that it deserves.
Are you ready to surprise everyone with your delightful ice cream? If yes then we have come up with the best ice cream makers that will help you in picking up the right product for you.
Best Ice Cream Makers
Here are the top 5 ice cream makers for delightful ice creams-
1. Cuisinart ICE-21CGR Ice Cream Maker
If you are an absolute beginner in the ice cream-making world and you want to test the process first then this product is perfect for you.
Not only ice cream but you can make yogurt as well as sorbet with this product.
Now you can make your ice cream in just 20 minutes. Add all the ingredients to the bowl, switch on the appliance and leave the rest to the machine.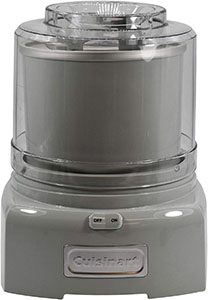 Moreover, the machine comes with a booklet full of yummy recipes so you can try them out easily.
Pros
It has a large capacity of up to 1-1/2 quarts.
There is no need for ice because of the double-insulated freezer bowl.
It arrives with a 3-year warranty.
It contains a lock transparent lid. The large spout ensures that adding ingredients is mess-free.
The all-new mixing paddle makes ice cream in a few minutes.
Cons
Can be a bit noisy after a few months of uses.
2. Breville BCI600XL Smart Ice Cream Maker
This stunning device scores full marks in all departments. Breville's stainless steel machine contains a compressor that quickly whips your dessert.
What we like the best about this ice cream maker is that it is super quiet and does not make annoying noises.
Plus, it features a soft to hard knob so you can make ice cream exactly how you like it.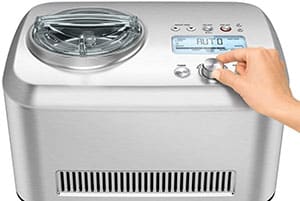 Be it gelato, sorbet, frozen yogurt, or ice cream, you can make everything using this appliance. It's one of the best ice cream makers for home use.
Pros
It has a huge capacity of 1.5 quarts.
Self refrigerating compressor with a voltage 110 to 120 and volts power 165 Watts.
Arrives with a pre-cool setting to optimal operating temperature.
It has fully automatic as well as manual functionality.
Cons
Quite big and bulky so not suitable for small kitchens.
3. KitchenAid Ice Cream Maker
If you wish to make large quantities of ice cream then a KitchenAid ice cream maker will be great for you.
Since the churning action is commendable, the dasher lifts first and then moves the cream in the bowl.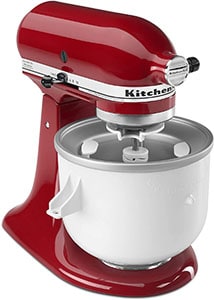 Unlike other products, cleaning up this machine is a piece of cake. Also, the appliance is relatively quieter and makes smooth ice creams.
The best thing is that the ice cream tastes the same after 2 hours and after 20 hours.
Pros
With a large capacity of 2 quarts, it is suitable for medium to big-sized families.
The product is super easy to assemble.
Make yogurt and ice cream in 20-25 minutes.
Arrives with a freeze bowl, dasher, and drive assembly.
Cons
Requires a stand mixer in the kitchen.
4. Cuisinart ICE-30BCP1 Ice Cream Maker
Cuisinart's ice cream maker has a stainless steel finish and looks absolutely gorgeous. This product is outstanding performance-wise and serves you ice cream in just 20 minutes.
With consistent results and smooth functionality, this ice cream maker is one of the best in the industry.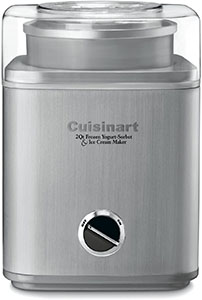 All you have to do is add ingredients and turn on the machine. Everything else will be taken care of by the appliance. Also, it makes 2 quarts of ice cream so it is suitable for large families.
Pros
Cleaning up the machine is extremely simple.
Comes with brushed metal housing and an embossed logo.
The spout is huge so you can add and mix ingredients without creating a mess.
An instruction book and recipe book are included with the appliance.
Cons
Little heavy product and bulky in nature.
5. Cuisinart ICE-70 Electronic Ice Cream Maker
This electronic ice cream maker is all that you need. Create two quarts of ice cream in just 20 minutes at the touch of your fingertip. 
From sorbet, gelato, frozen yogurt to ice cream, prepare everything in this appliance.
Moreover, it has a unique paddle that ensures top-notch performance as well as fast processing.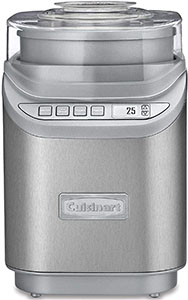 The sleek brushed metal housing gives the machine a stunning appearance. Along with being BPA-free, the product is very easy to assemble and install.
Pros
It has a countdown timer along with an auto shut-off function.
Arrives with a control panel with LCD screen and 3 settings with multiple speeds.
Inclusion of spout with an integrated measuring cup which is large in size.
With the recipe book, you can make delicious ice creams.
Cons
Can be a bit noisy at times.
Best Ice Cream Maker Buyer's Guide
These are some important factors to consider before buying an ice cream maker-
Ensure that the product you are opting for is easy to use. Compressor ice cream makers are great in this aspect. The main purpose of ice cream machines is to simplify the whole process.
Consider the size of your family and then choose a certain capacity. If you have a small family then 1 quarts capacity will work just fine for you. Otherwise, opt for a larger capacity ice cream machine.
Consistency is the key because no one likes hard ice creams. Test the product to see if it produces smooth ice cream or not.
Speed is yet another factor that you must keep in mind. Consider how long you are willing to wait for the ice cream and then continue your search for appliances.
Conclusion
These were our top 5 picks for ice cream makers. Enjoy desserts any time now and customize recipes according to your liking. Have unlimited access to delicious ice creams at your home itself. Moreover, if you're looking for the best ice cream maker for kids then you can check on the website.
Also Check–