Have you ever tried your kitchen blender for preparing frozen margarita? What about the consistency you get? Is it smooth? A blender can help prepare a frozen margarita at home, but the consistency is not the same as in restaurants. 
But with this Margarita Girl Double Mini margarita machine, you get the perfect textured frozen drinks at home. That way, you don't need to wait for longer to sip on your favorite cocktails.
So, if you want to buy this machine but have any confusion about the product, read the detailed review about the product.
Also Check– Margaritaville Bahamas Concoction Maker Review
Margarita Girl Double Mini Margarita Machine Review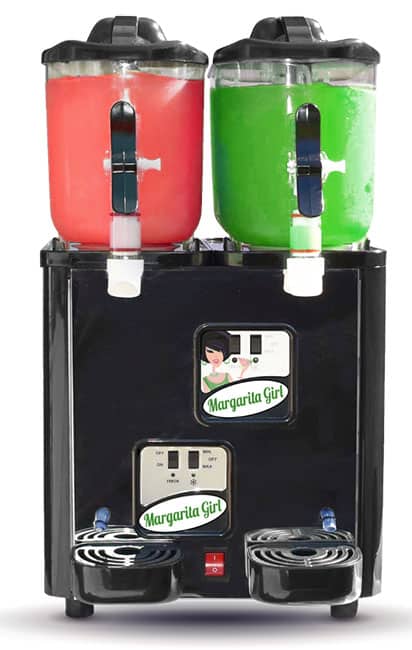 Margarita Girls Double is an excellent machine to make frozen drinks at home, in small cafes, restaurants, food trucks, and other places. Though it is a handy machine, it can do the work like a commercial-style margarita maker. In terms of capacity, this is a winning deal.
It is ready to serve you 25-50 cups of flavored frozen delight in a few minutes. The stainless-steel panel and high-impact plastic provide extra sturdiness to the machine that lasts longer. Plus, two different auger jars allow you to make two different flavor margaritas at one time. 
In contrast, it is easy to clean and maintain as well. So, if you have a second thought in your mind about this portable margarita machine, just clean it. Scroll a bit down to know what this machine can do for you.
Technical Specifications
Margarita girl double-bowl mini size machine can create the margarita and frozen drinks smoothly. It comes with a variety of technical specifications that can ease down your job. From high capacity to compact size, this machine is awesome to have in such a price range. 
Other technical specs are as follows: 
1/4 HP air-cooled compressor which is extremely powerful to create the perfect texture of the ice.
Small dimensions: 20 x 10 x 12.3 inches.
Twin auger mixer to enjoy two different flavors at one time.
Lightweight that makes it easy to carry.
Maximum jar capacity makes it ideal for small restaurants, parties at home, and even for small cafes.
Freeze up protection that stops the melting of ice.
Features Highlight
The margarita maker machine is well known for its compact size and amazing features. This portable margarita machine is extremely worthier to have if you have a small café. In addition, it is great for preparing delicious margaritas at home.
Below I've listed some of its features, so let's have a look at them. 
Powerful and has a high capacity to make more than 50 cups of frozen margarita at one go.
Strong and durable frame that is made with stainless steel panel and impact-resistant plastic 
Powerful air-cooled compressor for quick freezing 
Consistent control so that you can easily operate the machine without any worries 
Freeze-up protection and compact size to fit anywhere is your kitchen, even at your countertop. 
Above all these features, the machine is easy to use and even clean. So, you do not need to worry about the messy cleanings all the time; just enjoy your frozen drinks.  
Build Quality
If you are talking about the build quality, trust me, it never lets you down. This handy margarita machine is made with durable material that will last longer with you. In addition, it features a stainless-steel panel which is extremely resistant to wear and tear damage. 
Also, the two-auger jar is made with high-impact plastic, which is also safe from any damages. The machine's base is also made with stainless steel, which further enhances the machine's durability. 
The overall structure of this margarita machine is extremely sturdier and durable. So, you can say that the machine will be worth your investment. 
Performance
Whenever a user decides to buy a margarita machine, performance is always the topmost priority of everyone. Again, I must say the machine can do the right job of preparing the frozen margarita like a professional machine. 
It features a 1/4 HP air-cooled compressor that allows you to make frozen drinks within minutes. Plus, it comes with two auger jars so that you can prepare two different types of margaritas at one time. 
Above this, consistency control can help you to handle the machine easily. Its freeze-up protection feature helps to retain the frozen consistency and stop it from melting. So, performance-wise again, the machine is on the winning side. 
Post-Sale Service
Are you wondering about the post-sale service? Keep your worries away because the Margarita girl double machine provides you the post-sale services so that you can get a replacement of the damaged product easily at your doorsteps. 
If your product somehow gets damaged, you can report it to the technical support system. They will immediately provide you a replacement of the part and repair it free of cost; it is in warranty period. 
Customer Support System
Margarita Girl double mini margarita machine comes with a robust customer support system. So if you face any issue in the machine while installing and even the product gets damaged after some time, you can register your complaint through the customer support system. 
Within 3 to 5 business days, you will get technical help to repair your machine at your doorsteps. However, if the machine is in warranty period and not in repairing condition, you can even claim the refund. 
The 24 hours customer support system always stays connected with you and helps to sort out queries as soon as possible. 
Warranty
This margarita girl double mini margarita machine comes with a two years parts warranty and is based on the U.S service center. So, you can enjoy repairing services and parts replacement for free if your product parts are damaged within the warranty period. 
Overall Experience
In my opinion, this margarita machine is perfect to use at home and in small restaurants. In addition, this double bowl mini-size margarita machine can act as my helping hand when I need to serve frozen drinks to my guests in huge quantities. 
Plus, the efficient and durable design further adds value to the machine. Due to its powerful compressor, you can rest assured that you get the optimum quality margaritas within a few minutes. I highly recommend this portable machine who loves to enjoy restaurant-style margaritas at home.
Conclusion
The margarita girl double bowl mini size margarita machine is ideal for those who have a tight budget and want commercial style margarita at home. The build quality and consistency of the frozen drink are really impressive. So, I hope I've cleared all your doubts about this margarita machine. So, don't wait and click over the link right away and buy this handy margarita maker.