Are you looking for a portable ice maker? NewAir AI-100BK is a popular countertop ice maker that weighs 24 pounds. But, are you not sure about its performance, durability, or quality of ice? Let's see all its positives and negatives in this NewAir AI-100BK review. I'm sure this article will help you in making a purchase decision.
NewAir AI-100BK Ice Maker Review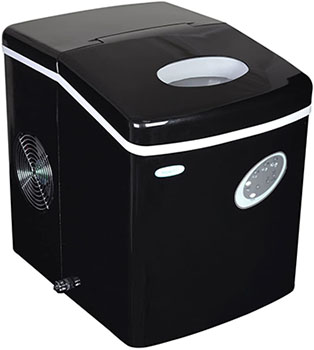 If you don't like the taste of ice produced in your refrigerator, NewAir AI-100BK could be a nice addition to your kitchen. It's a black compact automatic ice maker that produces nice quality cylindrical-shaped ice cubes.
The NewAir AI-100BK ice machine produces approx 28 pounds of ice every day. It comes in black color and the finishing of this product is remarkable. It looks great on the kitchen countertop or home bar.
This portable ice maker is perfect for outdoor gatherings and pool parties. If you don't want to run to your refrigerator every time, then this New Air AI-100BK is your great friend.
NewAir AI-100BK Specifications
| | |
| --- | --- |
| Product Weight | 11 Kg (Approx) |
| Product Model | AI-100BK |
| Product Colour | Black |
| Product Dimension | 14.5 x 11.75 x 15 inches |
| Ice Production Capacity | 28 Pounds |
| Cycle Time | 6-8 Minutes |
| Ice Size | Small, Medium, Large |
| Type Of Ice | Hollow Pill Shape |
| | |
Pros
It's very compact and portable.
It produces hollow pill-shaped ice.
The quality of the ice is great.
It can produce 28 pounds of ice in 24 hours.
It can be used for camping.
The product looks adorable.
An excellent choice for home use.
Cons
Not suitable for commercial use.
Cleaning is not very easy.
My Personal Experience
I personally hate refrigerator ice because I prefer soft and chewable ice. Also, my refrigerator takes almost 20-30 minutes for ice production. I had to run an ice store with the bag when some of my friends are together.
I ordered a NewAir AI-100BK ice maker after a friend's recommendation. When this ice maker was delivered by Amazon, the first impression was great.
The black color with excellent finishing blows my mind. I placed it on my bar countertop and it produced 9 soft ice cubes in just 6 minutes.
I had to wait for almost 30 minutes with the refrigerator, but I can start my drink within 6-8 minutes. It was of course a great experience. Also, the ice quality is amazing.
It has approx 3 pounds of the ice storage bin and it takes 15-20 minutes to full. You can take off the storage bin easily and transfer the ice to your refrigerator.
However, if you leave it on, then it automatically shut down when the storage bin is full. Also, there's a bright LED indicator that informs you when the ice bin is full.
I personally loved this ice maker. The build quality of NewAir AI-100BK is excellent and it's totally made from stainless steel. You should definitely consider this countertop ice maker for home and office use.
Final Verdict

– Should You Buy This?
My personal experience was excellent with NewAir AI-100BK portable ice maker. Because it cost very low and produces better ice than a refrigerator. Also, it operates efficiently and saves electricity.
If you're looking for a budget-friendly portable ice maker then NewAir AI-100BK is a perfect choice. However, if you can increase your budget a bit, get Opal Nugget Ice Maker.