Countertop aka portable ice makers is a convenient machine to use for residential as well as commercial (small restaurant, juice parlors, cafeteria, etc.) purposes. But, are they efficient to use? You might have a doubt about countertop ice maker power consumption.
In this guide, we are going to discuss- how much power does countertop ice makers use. Generally, countertop ice makers consume 150 to 300 watts. I have made a chart of power consumption for various popular portable ice makers brands. We shall do a calculation for their power consumption and running cost.
How To Electricity Do Portable Ice Makers Use?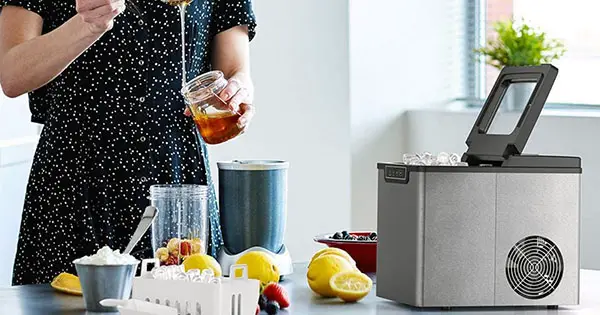 Generally, all portable ice makers operate between 115V to 120 Volt and 1.5 Amp to 3.0 Amp electricity. In this guide, I've prepared the electricity ratings of some popular countertop ice makers.
Do Portable Ice Maker Use a Lot Of Energy?
No! Portable ice maker does not use a lot of energy. The average electricity consumption for countertop ice makers varies between 150W to 300W. However, this number varies from brand to brand and model to model.
Some energy-efficient models use far less power consumption. Weather temperature, installation, and water temperature also contribute to the power consumption of a countertop ice maker.
The starting cycle (first batch of ice production) consumes more energy because all parts are at ambient temperature and steady state. However, there are a few energy-saving tips that can reduce power uses drastically.
What is the operating cost for countertop ice makers?
At 300 kWh (kilowatt-hour) in a month, would cost you around $15 to $20. This is the average monthly operating cost of a portable ice maker.
Assuming the cost of 1 kWh= $.06.
How To Reduce Power Consumption of a Portable Ice Maker?
There are some tips that help to reduce the wattage of portable ice makers:
Buy an EnergyStar certified device.
Avoid direct sunlight on the device.
Regularly clean your device.
Leave some space from around the device so that it can throw heats poperly.
Use cool water so that it can reach to freezing temperature quickly.
Schedule ice making timing. (Opal ice maker offers this feature)
Final Verdict
The power consumption of countertop ice makers is much lower than in refrigerators. You should always buy the top-rated ice makers and clean them regularly. Also, leave some space around the unit for a proper cooling effect. It can save a lot of electricity consumption.